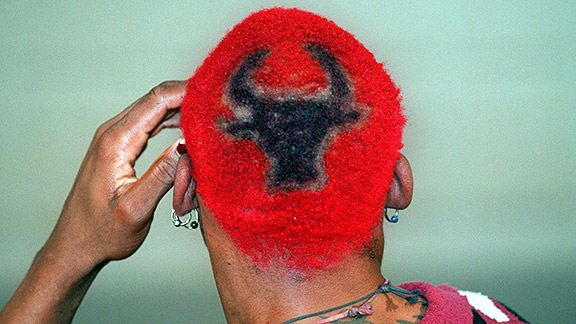 AP Photo/Beth A. KeiserThe Worm, and all his insanity, brought three titles to the Windy City.
After being miserable making $9 million while scoring 13 points a game, Toronto traded Hedo Turkoglu to Phoenix for Leandro Barbosa and Dwayne Jones. In a league where "you never trade big for small," Turkoglu was traded for a man seven inches shorter than him and one whose career high is 2 points per game.
That's not a trade. That's a giveaway. Leave and don't come back. It's not the first, and it won't be the last. Check these great moments in dumpoff history.
• October 1995: Spurs trade Dennis Rodman to the Bulls for Will Perdue. Rules of workplace engagement: wear this, and you can't come back next season. I'm sure that's written down somewhere.
• January 2006: Pacers trade Ron Artest to the Kings for Peja Stojakovic. Considering the Pacers went from 61 wins the season before the Auburn Hills incident, but haven't won more than 44 since, the Pacers were willing to trade Artest for a basket of wings. Instead, for one of the top 10 players in the league, they got half a season of a former All-Star in decline.
• April 2010: Steelers trade Santonio Holmes to the Jets for 5th-round pick. Holmes was arrested three times before he won Super Bowl MVP. But one season after the 2008 triumph, Holmes was accused of assaulting a woman in the club and later tweeted that it was "time to wake and bake." The Steelers passed him to New York.
• July 2010: Miami trades Michael Beasley to Minnesota for a 2nd round pick. Sure Minnesota's 2nd round picks are kinda like first-rounders. But for the former No. 2 pick in the draft averaging 14.3 ppg for his career? Not even Beasley's dad can explain that .
• February 1992: Falcons trade Brett Favre to the Packers for a 1st-round pick. Think that wasn't a giveaway? Here's Jerry Glanville: "I had to get him out of Atlanta ... I could not sober him up." Call it a charitable contribution to Kiln and the good folks of Wisconsin.