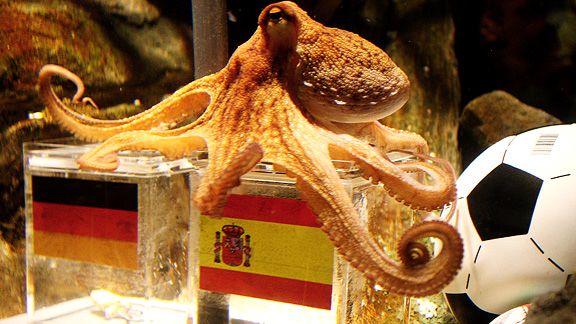 Patrik Stollarz/AFP/Getty ImagesPaul the Octopus is retiring after correctly predicting the winner in all eight of his World Cup picks.
He's walking away. On top. (And regrettably, without passing along any stock tips.) After going a perfect 8-0 in predicting World Cup games, cephalopod mollusk-cum-soccer oracle Paul the Octopus is retiring, the better to continue his exciting life of, um, captivity inside an aquarium tank.
In Paul's honor, Page 2 presents a short list of sports and pop culture figures who walked away in their primes:
Jim Brown

The greatest running back of all time -- probably the greatest football player of all time -- left the NFL at age 29 holding every significant rushing record, the better to pursue a post-pigskin life of playing Fireball in "The Running Man," mediating gang peace in South Central Los Angeles, considering a comeback 17 years after retiring, doing color commentary for the first six UFC fights and wearing multicolored brimless hats.
Barry Sanders

The elusive halfback was poised to break the NFL's career rushing record -- once held by Brown -- when he abruptly retired in 1999, coming off a Pro Bowl season and a year removed from MVP status. Eventually admitted that the Detroit Lions' culture of losing drove him out of football; how do you tell a man to be the last man to get tackled for the likes of Scott Mitchell and Andre Ware?