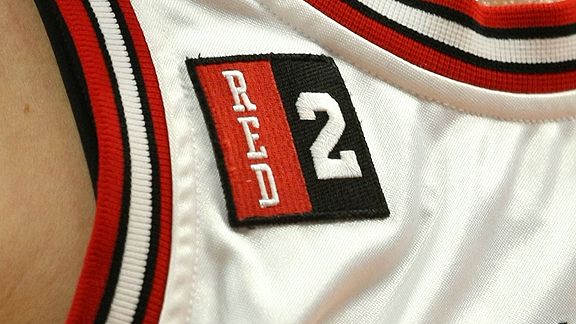 Jonathan Daniel/Getty ImagesThe Bulls faced a similar situation as the Yankees when Johnny "Red" Kerr and Norm Van Lier died.
The Bronx is mourning this week, as the Yanks have lost announcer Bob Sheppard and owner George Steinbrenner. But amid all the memories and eulogies, a practical consideration will have to be dealt with: How will the team memorialize these two men on the Bronx Bombers' uniforms?
According to an article that ran on Monday -- before Steinbrenner's passing -- there had already been talk that Sheppard's uniform memorial would be "more than the usual black armband" and might involve a patch depicting a microphone. But those plans will probably change now, since the Yanks obviously can't have Sheppard's remembrance outshining Steinbrenner's.
That's the tricky thing about multiple uniform memorials -- you want to pay proper respect to each person, but you also want the visual gestures to be proportional to the deceased figures' statuses with the team. The last time a team had to deal with this kind of balancing act was in February of 2009, when Johnny "Red" Kerr and Norm Van Lier -- both important members of the Chicago Bulls' family -- died on the same day. The Bulls responded by coming up with one patch design to memorialize both men.
The last time the Yankees faced a dual-memorial situation was in 2007. Pitcher Cory Lidle had died just after the end of the '06 season, so the team wore a black armband for him in '07. Then Phil Rizzuto died in August of that season, so a black "10" was added above the armband.
A similar situation unfolded in 1999, but in reverse. Joe DiMaggio had passed away in March of that year, so the Yanks added a black "5" sleeve patch. Then, in September, came the death of Catfish Hunter -- a great pitcher, but clearly not on the same level in Yankees lore as Joe D. -- so the Yanks honored him by adding a black armband.
But how have other ballclubs handled multiple memorials? Here's a partial breakdown: