LOS ANGELES -- Dave Annable jutted his head back in disbelief when he was approached by New York Mets legend and baseball Hall of Famer Gary Carter Tuesday morning at the 10th annual ESPY Celebrity Golf Classic.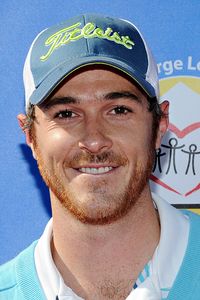 Michael Buckner/Getty ImagesDave Annable played in the charity golf tournament on Tuesday.
"Gary Carter came up to me and told me he was a 'Brothers & Sisters' fan. I almost lost my mind," said Annable, who stars as Justin Walker on the ABC show. "I told my buddy to punch me in the face; it doesn't get any better than that."
Annable was one of several celebrities who joined forces with past and current athletes to help raise money for the V Foundation for Cancer Research. He played alongside athletes and other celebrities, including Miles Austin, Brandi Chastain, Jerome Bettis, Jalen Rose, Eddie George, Maksim Chmerkovskiy, Jeff Daniels, Tony Dovolani, Julius Erving and Vince Young.
Annable admits his show doesn't exactly attract big meaty, muscle football players, and was surprised to hear that many were fans of the show.
"I've heard more 'my wife loves the show,' and 'well, it's not that bad' about a dozen times," he said laughing. "It's really funny because my buddies don't like it. They're like 'Is Chris Berman hosting it?' It's really a smart show, a great show. Great actors. I think some guys can get past it. I mean, I'm like 'I'm watching ESPN every Sunday night, not my show! But it's a lot of fun. It allows me to come to great events like these."