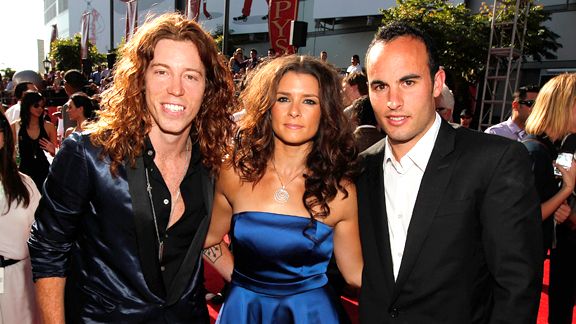 Christopher Polk/WireImageOlympian Shaun White, driver Danica Patrick and soccer player Landon Donovan arrive at the ESPYS.
Here's a selection of quotes gathered at the ESPYS live telecast on Wednesday night:
TERRELL OWENS, on the premiere of second season of "T.O. Show" last weekend: "I thought the first episode was awesome. Chad's show kicked it off, and it did well and it helped mine out. And we both ended up with great ratings. We're good friends, and I'm rooting for Chad. But I also want to beat him. Anything Chad and I do, we do it to win."
BERNARD BERRIAN, on being an VH1 correspondent: "I'd love to get Roselyn Sanchez and Emannuelle Cherique. But, if they're not available, I'd settle for interviewing Jared Allen. He's crazy."
EPHRAIM SALAAM, on what he'd be nominated for: "Sexiest man in the NFL, probably."
AMARE STOUDEMIRE, on the fans: "I didn't realize how many New York fans there are out there. They're everywhere. I hope I can help that number grow."