OAKLAND -- Angels infielder Kevin Frandsen installed a new app that's supposed to improve his mental dexterity. The idea is "to be brilliant," he said, while trying to tap ball No. 2 in the "Bouncy Ball" app on his iPad a few hours before taking the field against the Oakland A's.
But Frandsen is skeptical: "Stupid games," he said in frustration as ball No. 2 eluded his tap.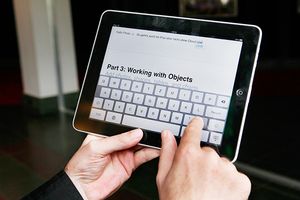 David Gannon/AFP/Getty Images
Maybe so, but if an unscientific survey of two American League clubhouses is any indication, players say the iPad is their go-to source for making productive use of their downtime.
"It can bring guys closer together," A's reliever Brad Ziegler said. "A lot of our guys on our team play 'Home Run Challenge.' They'll synch up their iPads and play against each other."
Fans are finding a use for the iPad, too, as software developers feverishly develop apps to enhance the fan's experience (an iTunes search for "baseball" yielded 144 apps and widgets).
"Everyone in this clubhouse either has one, or has one on order," Angels pitcher Scott Kazmir said.
Everyone except for All-Star pitcher Jered Weaver, that is.
"They look cool," he said, "but I'd either lose it or break it. No need to waste the money on it just to lose it."