Which of these statements is true?
• A. Jamie Moyer was 0-5 after giving up two home runs to Barry Bonds on two pitches in the second and third innings before being sent down to the minors and not returning to the bigs that season -- which was 1991.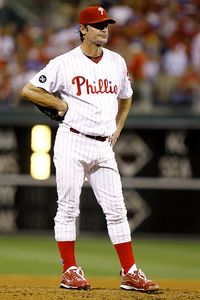 AP Photo/H. Rumph JrWe're asking readers to help us with some Jamie Moyer jokes.
• B. Jamie Moyer signed the Declaration of Independence.
• C. Jamie Moyer once put a cooked patty of beef between two pieces of bread and said: "I know it doesn't make sense but let's call this the 'hamburger.' "
OK, trick question. They're all true.
It may not be the most important question in baseball but the most interesting is this: "Will Moyer play long enough and win enough to earn entry (without buying a ticket) into the Hall of Fame?"
The other question is simple: "How old is he?"
That's what we want from you this week. We want to build a top 10 list that provides the best answers to this: "Jamie Moyer is soooo old that ...."
You finish the sentence. Send your best shots to osogreene@aol.com. And, please, include your first name, initial to your last name and your location (No, we don't mean the basement of your mother's house).
About the Hall, Moyer has 267 victories to his credit. That's more than Bob Gibson, more than Bob Feller and just one shy of Jim Palmer. And they are all in the Hall.
Suppose he hits 300 wins? Can the Baseball Writers' Association of America keep him out? He's 9-9 for Philadelphia right now and there's simply no telling how long he's going to last.
But how long has he lasted? We know he's old. He's so old that...
You tell us. You've got until Wednesday at noon. Our list will appear here Thursday, God willin' and the creek don't rise.
P.S. -- If you were looking for the Most Overhyped Top 10 List last week, it didn't appear due to technical difficulties with my body. It will be here Tuesday, so you've got that to get you through your day.