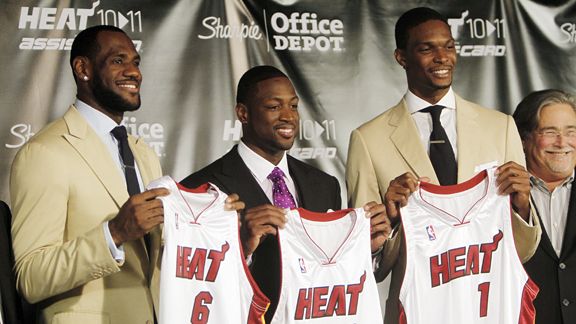 AP Photo/J.Pat CarterDepending on where you live, these jerseys are either everywhere ... or nowhere.
Welcome back to Three Up/Three Down, where we look at which athletes, trends and gear are running hot and running cold in the sports memorabilia world.
Matt Lane, vice president of Sports Images Inc., provides the official 411 on this ever-changing industry.
THREE UP
David Ortiz: Big Papi was all but left for dead in April, and so were sales of anything with his name on it. A solid May and June combined with a Home Run Derby win brought sales out of the basement. Also, with so many Red Sox starters on the disabled list, Ortiz has helped himself simply by being in the lineup every day.
George Steinbrenner: The demand for The Boss is unprecedented. Steiner Sports, the Yankees' official memorabilia partner, is still waiting for approval to sell some of the products it has lined up, while others are scrambling to buy anything that's already available. One factor fueling the demand is the limited supply. Despite his larger-than-life ego, The Boss rarely signed anything.
LeBron James: Although all the new LeBron Heat gear seems to be red-hot with all the retailers, the consumers in Miami aren't buying just yet. History shows that the Miami fan base isn't likely to flock to the mall in search of sports memorabilia. Still, everyone loves a winner, so the buyers will come. But with this team, anything short of dominance will send this fragile bangwagon (and all the jerseys and caps with it) off the rails.
THREE DOWN
LeBron James: Wait. How is LeBron here, too? Because although King James may be stocking the shelves in Miami, everyone else living in a post-"Decision" world isn't buying. Cleveland? Sure, we all know its feelings. But other markets like Chicago, New York and New Jersey that were buying up LeBron stuff in anticipation of his potential arrival have gone stone-cold.
Party favors: Blame the economy or the games themselves, but all the mugs, plates, bowls and anything else you would find at tailgate or house parties just don't sell like they used to. The Super Bowl, of course, is the exception to this new rule.
NFL draft picks: It seems the higher the pick, the lesser the interest. The first two 2010 picks, Sam Bradford of the Rams and Ndamukong Suh of the Lions, are two potential franchise players who don't even come close to sales of all things Tim Tebow. These high picks usually see an eventual bump in sales, but not until Week 3 or so of the NFL season.