It's been a busy year for Fenway Park. The historic home of the Boston Red Sox rang in 2010 as a hockey rink. It'll host at least 81 Sox games this year. (The Fenway faithful hope for more.)
And on Wednesday night, the 98-year-old stadium becomes a soccer field as Celtic FC and Sporting Lisbon take to the pitch.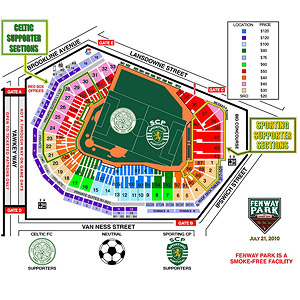 Fenway ParkHere are the plans for converting Fenway Park to a soccer field for Wednesday's match.
"I'd say the biggest test to proving Fenway as a versatile venue was the NHL Winter Classic," said Sam Kennedy, Fenway Sports Group president and Red Sox chief operating officer. "To follow that up with soccer seemed to make sense in a World Cup year."
Setup for the Winter Classic rink began Dec. 11 for the Jan. 1 game. The breakdown went quicker, but still took several days. Compared to that, turning Fenway into a soccer pitch almost seems like, well, a walk in the park.
But with the last soccer game at Fenway played in 1968, the transformation wasn't without challenges. The Red Sox grounds crew looked at archived pictures from past games and talked to its counterparts at other parks. Chief among them were the Washington Nationals, who shared RFK Stadium with D.C. United from 2005 to 2007.
"Multipurpose stadiums go through this a lot," Kennedy said, "but it's a relatively new concept for us."
The conversion process began immediately following Sunday's Red Sox game against the Rangers, with Kennedy estimating 48 hours to get the soccer field up and four or five days to return Fenway to baseball form.
With all the changes it takes to get the field ready, the folks at Fenway hope to see one thing stay the same: a sellout. The Red Sox saw their MLB-record sellout streak hit 600 games Sunday. The Winter Classic sold out in minutes. And the team is optimistic that they can sell out "Football at Fenway" by game time Wednesday.