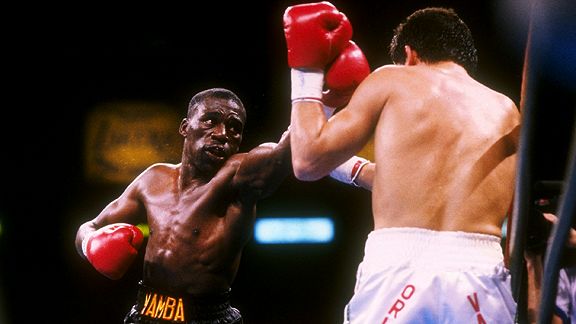 Holly Stein /Getty ImagesRoger Mayweather had the Black Mamba nickname first. Just check out his trunks in this 1989 photo.
While everyone is fretting about the possibility of Floyd Mayweather supposedly "ducking" the Fight of the Millennium with Manny Pacquiao, I'm sweating something more important and egregious -- nickname-jacking.
You know Floyd's swaggering uncle Roger Mayweather, right? He's "Money's" trainer, and it is Roger's legal troubles that are rumored to be the chief reason Floyd has yet to commit to fight Pacquiao. But more important and germane to my beef, uncle Roger was a super lightweight and welterweight champ in the '90s who, to my recent surprise, went by the ring nickname of "Black Mamba." That's right, the same name Kobe Bryant chose for himself a few years ago.
It doesn't matter that Kobe is a much bigger name than uncle Roger. No athlete should jack the nickname of any another athlete of reasonable fame. We call that biting where I'm from. Biting is not cool. As Kool G Rap once rhymed, "For parasites who bite, it's gonna be fright night."
Even a pitcher with a 150-mph fastball can't be called "Pistol" -- that's Pete Maravich's nickname. Sorry linebackers, Tommy Hearns is the "Hitman." I'd love to start calling LeBron James "Prime Time" after his performance in "The Decision," but Deion Sanders has dibs on that.
In the music industry, artists have to change their names all the time. Jay Dee became J Dilla because Jermaine Dupri was "J.D." T.I. was Tip for most of his life, until he became a rapper and had to contend with Q-Tip. Biggie Smalls had to go with the cumbersome Notorious B.I.G. because of a relative no-name Biggy Smallz in California.
Athletes? They don't care. They frequently either proactively endorse or passively allow nickname-jacking. LaDainian Tomlinson could have said, "Just call me LD, y'all. 'LT' is Lawrence Taylor." "Big Ben" is Ben Wallace, not Ben Roethlisberger. And don't get me started on Dwight Howard jacking "Superman" from Shaq. That's an all-time lowdown and a dirty shame.
We need a clearinghouse and enforcement agency for nicknames. We need an agency to alert Kobe that Roger Mayweather has the sports nickname rights to Black Mamba. We need an agency with the power to forbid Howard from donning a Superman cape. We need an agency to say, "'Sweetness' was Walter Payton … and Pernell Whitaker was 'Sweet Pea,' so you can forget about that one, too." We need an agency to break it to the Icelandic hockey player with white hair that only George Gervin can be "The Iceman."
The jacking has to stop. It's time to lay down the law.