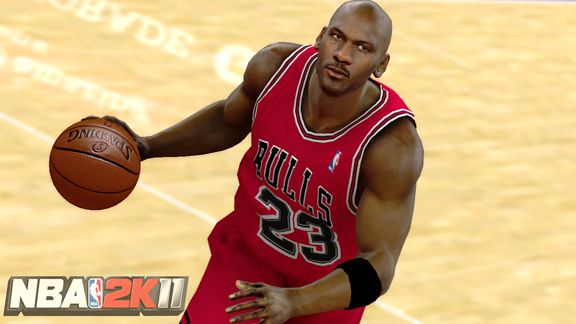 2K Sports Fire up your Xbox and you can once again live the glory days of Air Jordan.
The bad news? You can't chase curveballs for the minor league Birmingham Barons. The good news? You can stick it to the New York Knicks, play God against the Boston Celtics, rain three-pointers on the Portland Trailblazers and generally relive Michael Jordan's most memorable moments in 2K Sports' upcoming "NBA 2K11" video game.
When 2K Sports previously announced that the retired Jordan would appear on the cover of their latest basketball title, it figured that his role would go beyond a mere photo shoot. How so? With a "Hot Tub Time Machine" game mode 2K Sports is calling the "The Jordan Challenge," in which users can play through 10 different games from Jordan's career, including:
• Jordan's post-baseball 55-point outburst against the Knicks in 1995.
• Jordan's "flu game" performance against the Utah Jazz in the 1997 NBA Finals.
• Jordan's 1990 regular season shootouts against Atlanta's Dominique Wilkins.
"We've had getting Jordan in back of all of our minds for years and years, thinking, 'oh man, what would we do if it happened?'" said Jason Argent, vice president of marketing for 2K Sports. "We knew it couldn't just be the cover. It had to be in the game."
The mention of Wilkins got us wondering: What about Jordan's Chicago teammates -- Scottie Pippen, Dennis Rodman, Steve Kerr, Cliff Levingston? What about his opponents like the Bad Boy Detroit Pistons and Karl Malone? Will they be in the game? After all, breaking Cleveland's collective heart is nice; nailing jumpers over a digital Craig Ehlo is authentic.
Because negotiations with certain retired players are ongoing, Argent wouldn't give any specific names. However, he insisted that the company that once tracked down 200-plus retired football players -- everyone from Barry Sanders to Bubby Brister -- to appear in "All-Pro Football 2K8" had done its homework.
"We chased down the players we had to have," Argent said. "We have the full starting teams in the game. Most of the bench players. The goal is to have them all. It's been all hands on deck."
In a nod to authenticity, player models will sport shorter shorts than their contemporary counterparts. Moreover, Jordan's player model and in-game ratings will change in accordance with the particular playable moment -- over time, he'll become more muscular, with less hair. Accomplishing certain game play goals, such as making six first-half 3-pointers against Portland, will trigger signature animations like Jordan's famous "shrug."
"Our goal is to recreate things exactly as they happened," Argent said. "We're not stopping until we do that."
Are you out there, Jo Jo English?