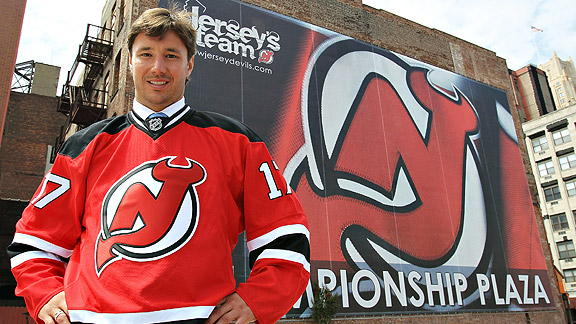 Bruce Bennett/Getty ImagesIlya Kovalchuk poses following the media opportunity announcing his contract renewal. Oops.
The NHL has rejected Ilya Kovalchuk's 17-year, $102 million contract because it doesn't believe the star forward plans to play that long and sees the front-loaded deal as simply a way to get around the league's salary cap. Obviously, no one in the league office has been told that 40 is the new 30. On the chance Kovalchuk, 27, actually aspires to make it to the final year of his lifetime deal, he wouldn't be the first player to skate well into his 40s.
Mark Messier, age at retirement: 43
Messier was part of six Stanley Cup teams during his 25-year NHL career. But the much-heralded center might also serve as a cautionary tale for playing into one's athletic twilight years. All of his championships came before he turned 34. In fact, he didn't even see the playoffs in the final seven years of his storied career. While that had to be a disappointment, it was likely softened by the $60 million-plus Messier earned.
Dominik Hasek, age at retirement: TBD (Currently, 45)
The only goalie to win the Hart Trophy twice, Hasek made his NHL debut in 1990 and played 16 seasons after being drafted in 1983. Twenty-seven years later, he's still going strong. Although he retired from the NHL in 2008 at 43, Hasek returned a season later after signing a contract to play professionally in the Czech Republic and inked a deal last month with Russia's Spartak Moscow. However with just an estimated estimated $55 million in career earnings to his name, Hasek has to play quite a few more seasons to hit the $102 million mark.
Chris Chelios, age at retirement: 47
The second-oldest player in NHL history, Chelios is still hesitant to shut that door behind him, saying last season that we was "99 percent sure" he wouldn't be playing in 2010-11. After a successful career that included long stays in Montreal, Chicago and Detroit and an estimated $49 million in earnings, the defenseman spent most of last year in the AHL, but played nine games for the Atlanta Thrashers. Just how long has Chelios been playing? Kovalchuk was born in 1983, also known as Chelios' first NHL season.
Gordie Howe, age at retirement: 52
Even setting his unbelievable numbers and six MVP awards aside, Howe's career spanned five decades, from his rookie season in 1946 to his final season in 1980. (Six decades, if you count his one IHL shift in 1997 at 69.) Considering that Howe earned $2,350 his first season as a pro and reportedly didn't crack $50,000 a year until he was in his 40s, it's safe to say he probably figured he'd score 100 million points before he'd make $100 million. Had Howe continued playing, he likely could have done both.