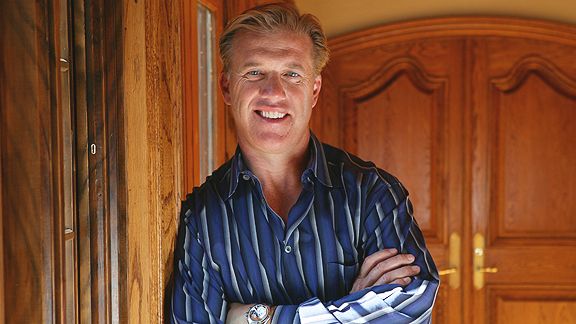 Doug Pensinger/Getty Images for OctagonThe Denver Broncos have welcomed back NFL Hall of Famer John Elway.
DENVER -- He's 50 now, with a new left knee, a new wife (a former Raiders cheerleader) and he's about to begin a new relationship with the Denver Broncos -- be it business marketing or perhaps even offering tips to rookie quarterback Tim Tebow.
But this isn't the same John Elway who led the Broncos to back-to-back Super Bowl titles a little more than a decade ago.
"I'm finally at a point in my life where I'm starting to enjoy life a little bit instead of charging ahead," Elway said Thursday after playing in the first round of the Colorado Open golf tournament at Green Valley Ranch. "I'm just kind of trying to take the foot off the pedal a little bit and smell the roses a little bit."
Elway? Stop and smell the roses?
Perhaps time will tell, considering that eventually owning a piece of the Broncos is on his post-50 "bucket list."
But if nothing else, his sense of humor after shooting an 11-over 82 Thursday proved that the competitive fire doesn't burn as hotly as it once did during his 16 years with the Broncos.
"My knee is good, but my back hurts and I got a headache," he cracked after a horrid day when putts didn't drop and his shots kept going right -- leaving him in danger of missing the cut.
"This is the way I compete now and it's a game that I really enjoy," he said. "But I didn't enjoy the way I played today. I'm trying to get better."