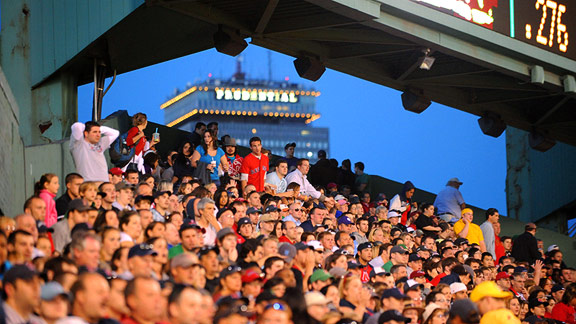 Michael Ivins/Boston Red SoxIt may hold Fenway's most remote seats, but Row 40 of Section 38 is loud and rowdy just the same.
•
Photo gallery: The farthest seats in baseball
DENVER -- "Welcome to the Rockpile!" came the usher's voice at the top of the stairs, a vertical mile above sea level. "You found us."
He grinned.
"Oh, you must know somebody. These are the best seats in the place!"
By the time we reached our aluminum bleacher in Coors Field's last and highest row, we were 600 feet from home plate -- the farthest seat in Major League Baseball.
To our left sat a family of six who spent $11 to see the game. One of kids got in for free, but the rest of the family members paid full price: $4 per parent and $1 per child.
To our right sat a young couple drinking tall beers. The man owned a medical marijuana dispensary and the woman had just finished her college finals.