Mark Phillip never wants to miss an instant classic.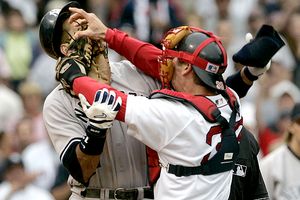 J Rogash/WireImageMark Phillip, founder of Are You Watching This?!, says his service's technology has picked up on the intensity of rivalries, such as Yankees-Red Sox.
That's why he started up Are You Watching This?!, a service that alerts sports fans to games in progress that you don't want to miss out on. Sign up, input which sports you're interested in, and the service will alert you with an e-mail or text message with the score, time left and channel you need to turn on for your specific cable or satellite provider.
Chrome and Firefox plug-ins are also available, as are apps for Android, Palm and the iPhone.
Earlier this year, the service's technology -- referred to as RUWTbot -- achieved the ability to factor rivalries into its algorithms, taking it up another notch.
I caught up with Phillip by phone to discuss the site's ins and outs, as well as what's in store for the future.
Are You Watching This?! is about bringing the technology straight to viewers of the NFL, NHL, MLB, NBA, CFL, Arena football, WNBA, auto racing, soccer, college football, men's and women's college basketball, college baseball and college hockey.