USA Softball pitcher Jennie Finch and Houston Astros pitcher Casey Daigle are more likely to be talking about baby sitters and preschools than their craft.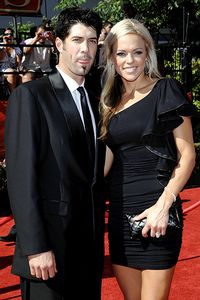 AP Photo/Dan SteinbergJennie Finch and her husband, Casey Daigle, arrive at the ESPYS in Los Angeles on July 14.
But that's what life is like when you're married to arguably one of the most significant figures in softball history.
"A lot of my [athlete] friends are married to non-athletes and they almost talk more about what happens on the field than Casey and I do," Finch said. "It's kind of ironic."
Finch, whose supermodel looks and charm catapulted her to celebrity status after leading Arizona to a 2001 NCAA title, announced last week her retirement, effective when she concludes her National Pro Fastpitch season next month.
Daigle, a journeyman pitcher with his fourth major league club in 11 years, on July 7 collected his first win in more than six years (2,249 days), a record among active pitchers that Finch said is a tribute to his perseverance.
But at home, Finch and Daigle keep the shop talk to a minimum with the understanding that they both know what it's like to win -- and lose -- at the highest levels.
"There's that line," Finch said. "I respect what he does out there on the baseball field and he respects what I do, and we just kind of go from there."