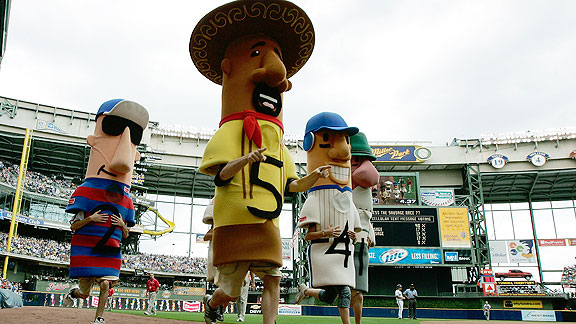 Scott Boehm/Getty Images
Spurred on by the success of the Milwaukee Brewers' Famous Racing Sausages, several other baseball teams have added mascot races in recent years, including the Racing Presidents in D.C., the Great Pierogi Race in Pittsburgh, and more recently the Legends Race in Arizona.
Not every team has jumped on the bandwagon. Here are five that should:
Chicago White Sox or Cubs (allegedly crooked politicians): If Illinois is known for anything, it's politicians who do more business under the table than over it. What better way to pay tribute to this rich political heritage than in mascot form? Who wouldn't enjoy seeing a larger-than-life version of former Gov. Rod Blagojevich racing around the warning track against his predecessor, George Ryan?
Kansas City Royals (barbecued meats): A nod to the sausage race that pays homage to the food export that has made Kansas City famous. How about a race contested by ribs, pork chops, grilled chicken and brisket? Fans could receive a discount on the winning meat at concession stands around Kauffman Stadium. Mouthwatering and entertaining.
Baltimore Orioles (Muppets): A tribute to University of Maryland alum Jim Henson. Kermit the Frog could race against Fozzie Bear, Miss Piggy and the Swedish Chef in what would easily be the most compelling sight at Camden Yards in recent memory.
Detroit Tigers (pizzas): Little Caesars founder Mike Ilitch owns the club, and the previous owner was Domino's founder Tom Monaghan. Why not have a nightly race to determine which pie reigns supreme? We suggest a Domino's thin crust and a deep dish going up against one of Little Caesars' Hot-N-Ready pizzas and its famous Crazy Bread.
Florida Marlins (fans): The Marlins annually rank at or near the bottom of the major leagues in attendance, so why not reward those who do come? Pick five fans out of the stands each game and have them race during the seventh-inning stretch. The winner's section gets a select food item -- or better yet, free tickets to the next home game.