For many children, returning to school is an annual ritual of despair. Pools and Popsicles are replaced by homework and questionable lunch meat. Gone are the carefree mornings of sleeping late. They are replaced by long days of … ugh … learning.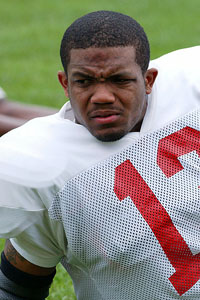 AP Photo/Terry Gilliam
But for some adults, going back to school is a deliberate choice -- unfathomable to most 9-year-olds. Take Maurice Clarett: The stud running back-turned-felon recently concluded a 3½-year stint in prison for aggravated robbery and carrying a concealed weapon. Upon his release, he re-enrolled at Ohio State, and on Monday, the 26-year-old started classes in the College of Education and Human Ecology.
That got us thinking about notable returns to academia. So grab your books and No. 2 pencils, because we're heading to the classrooms with a look at the best back-to-school stories.
NBA superstars: Who says players who turn pro early can't still earn their degree? Chris Paul returned to Wake Forest to prepare for a religion degree in 2009, and Kevin Durant continued to take classes at Texas after joining the NBA. Shaquille O'Neal, fulfilling a promise to his mother, earned his bachelor's degree in general studies at LSU in 2000, presumably because he stayed away from all acting-related classes.
Steven Spielberg: The legendary director dropped out of USC and subsequently left Long Beach State to work at Universal Studios, although he finally returned to Long Beach State in 2002 to complete his degree in film and electronic arts. If he gets a mulligan on school, why can't he have a do-over for "Transformers: Revenge of the Fallen"?
Larry Hasenfus: This 58-year-old Springfield (Mass.) College baseball player made the ultimate comeback after flunking out of Saint Anselm College as a teenager because of severe dyslexia. Now, he's pitching for the Pride's JV squad, handlebar moustache and all, and recently made the dean's list.
Elin Nordegren: Tiger Woods' estranged wife is apparently taking summer arts seminars at Rollins College in Winter Park, Fla. We're surprised she didn't just buy the college … or three.
Billy Madison: An entire generation learned the year of the Spanish Armada (1588), pined to study business ethics and sung the same song while waiting for the bus every day: "Back to school. Back to school. To prove to Dad that I'm not a fool. I got my lunch packed up, my boots tied tight. I hope I don't get in a fight. Ohhh, back to school …"