Tim Tebow is not a Denver Bronco. He's a clothes horse.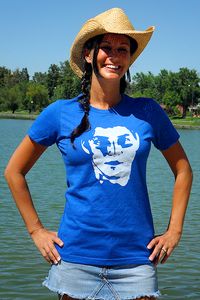 Courtesy of tebowtees.comFlorida alum Kim Roth, who lives in Denver, wears a Tim Tebow inspired T-shirt.
The proof, like Tebow's very name these days, is all around us.
For starters, the Florida fashonista has been leading the NFL in jersey sales since virtually the day he was drafted. What's more, on the heels of Nike's early July announcement that it will produce a limited-edition Tebow sneaker came this week's jarring brief: Underwear giant Jockey has inked the rookie quarterback as a spokesman for 2010 and beyond.
But that's not all. While Helen of Troy's inspirational visage might have launched a thousand ships, Tebow's recently helped launch a line of women's panties sure to grace a thousand hips. He also served as the mascot-melding motivation behind BroncoGator.com, a site whose prevailing logo answers the age-old question: What would happen if the Denver Bronco and the Florida Gator procreated?
Clearly, Tebow is a sartorially splendid sort who's as adept at moving articles of clothing as he is at moving up a draft board. Not that anyone needed to tell Denver resident Jesse Stiles that.
Stiles -- the co-creator of TebowTees.com and co-founder of the startup company Brand Enamel -- has been peddling hip-messaged, Tebow-influenced tops since early July. It's a business proposition that developed organically not long after the Broncos made the lightning-rod quarterback the 25th overall pick in the 2010 NFL draft.