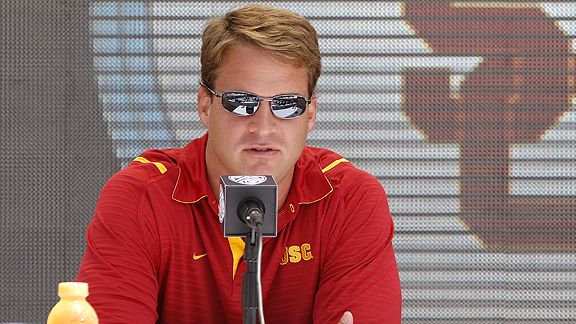 AP Photo/Damian DovarganesLane Kiffin needs more friends like Steve Sarkisian in his life to lighten the mood.
Lane Kiffin joined KJR in Seattle to talk about how he keeps the Trojans motivated while being sanctioned, being sued by the Titans and how Washington Huskies head coach Steve Sarkisian is a true friend.
On keeping his team motivated knowing they can't play in a bowl game:
"Well, you've got to make sure that you make really good decisions. If we're going to be limited in scholarships, we got to make sure that we're taking the right guys. But that's really no different than before. As far as the bowl games, I don't think the players really play for that. Not at USC. USC guys come for the education and to go to the NFL, so none of that has changed. It's still a great place to come and a fabulous place to get your degree from."
On how he and Washington Huskies head coach Steve Sarkisian have just a deep a bond as Sark and Carroll:
"Yeah, we are. He's a really great friend of mine. You know, I flew to New York two days and so it obviously takes five and a half, six hours to get there. I'm on the plane and I miss the breaking news about the Titans lawsuit, and all of a sudden I land, there's a picture on my phone. Steve decided to send me a picture of Times Square where it's going across the ticker that the 'Titans sue Kiffin.' I said thanks a lot, that's really what I wanted to see when I landed in New York."
On if the news of the lawsuit surprised him:
"Yeah, it did. I can't really comment on it because it's a lawsuit. But yeah, it did."
On how he explains and motivates kids about the sanctions:
"Well at least we know it now. Sometimes some appeals have come back during the season or something, and they find out at that time. So we know what it is and we deal with it. The hard thing for these players is none of them were here, none of them had anything to do with this, and now they're suffering because of it. But it is what it is. We talked about worrying about what they can control and moving forward."
• Click here for a transcript of highlights from the interview