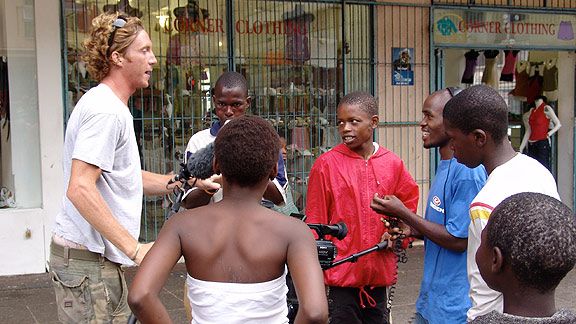 courtesy of Bill Raftery Bill Raftery Jr. talks with children in South Africa as he works to help them get off the streets.
What the world saw during this summer's World Cup in South Africa: spectacular goals, spirited sports fans, a global coming-out party for a nation still grappling with the toxic legacy of apartheid.
What the world didn't see: the disturbing plight of South Africa's street children.
For much of the last seven years, Billy Raftery Jr. -- the son of well-known college basketball analyst Bill Raftery -- has been living in Durban, South Africa, working with the nonprofit Umthombo Street Child Action organization and the Children Rise foundation to help homeless children escape street life.
Raftery also has been directing "Children Rise," a documentary film about the issue that was previewed in New York City last week and is slated for completion later this year.
Page 2 caught up with Raftery to discuss the project:
You're the son of a famous college basketball analyst. How did you end up making this film?
I was studying film, visual arts [at Columbia University]. Wanted to get into it. I had been around cameras with my dad a lot. Always fascinated me. By chance, one of my best friends from high school was living in South Africa. I went there my senior year Christmas break to surf and party. I was blown away by the evolution of the country, a baby democracy, about six years after apartheid. Everyone trying to figure out where they fit. I stayed in a beautiful beach town, Camps Bay. It was like Hollywood meets Africa, very ritzy. But outside you see all these shantytowns. My friend would say, don't go in there, you'll get raped, stabbed, everything that white South Africans feared. So I wanted to go, like, the next day. We did, and it was the warmest, friendliest place I had ever been. I called my father and said, 'Dad, I'm moving here right after college.' He was excited for my passion.