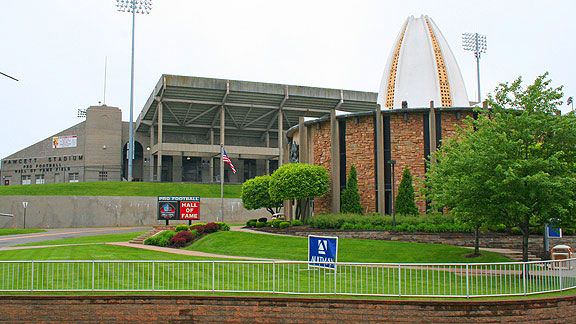 Eric AngevineJohn Randle, Emmitt Smith and Jerry Rice are among the players being inducted this year.
"Does anybody know what this is?"
Gary Brahler holds up a rather nondescript object. It's white, roughly rectangular and about two inches thick.
"This is the only donated item that was ever taken back by the player who donated it," Harry Rotunno says. "These are Brett Favre's thigh pads. He donated them to us after his 'last game' with the Packers. They're the only kind he uses, and the manufacturer doesn't make them anymore, so when he unretired, he asked us if he could have them back."
Appreciative chuckles rise from around the room. Everyone here is thinking the same thing: Best keep those thigh pads handy; you never know what Favre might decide to do this year.
Brahler, 59, and Rotunno, 60, are volunteers at the Pro Football Hall of Fame. Both natives of the Hall's hometown of Canton, Ohio, they offer their free time on weekends, giving presentations in the atriums and conference rooms of the Hall for whoever shows up. They do it because they love the place, because they're fiercely proud of what it represents. They do it partly, one suspects, because the stuff is so darn cool.
It's the Harry and Gary show, and according to these two dedicated docents, only 5 percent of the items owned by the Hall are on display at any given time. It's their happy job to bring selected items from the other 95 percent of the treasures out of the archives and into the light from time to time.