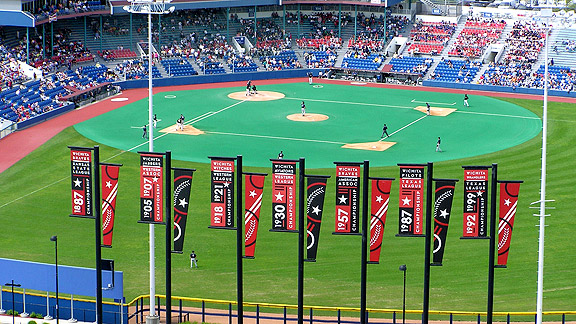 National Baseball Congress Lawrence-Dumont Stadium opened in 1934 and has hosted every edition of the NBC World Series.
The 76th annual National Baseball Congress World Series is under way in Wichita, Kan., and somewhere among the 32 amateur teams vying for the title could be tomorrow's home run-clobbering Hall of Fame pariah!
It was at the 50th edition of the NBC World Series in 1984 in which the Hutchinson (Kan.) Broncos presented an outfield duo of Barry Bonds and Rafael Palmeiro. That was just two years after Roger Clemens and Mark McGwire were honing their crafts at the historic Lawrence-Dumont Stadium on the Arkansas River.
But history aside, it's the quirky tournament itself that brings fans back year after year. For two weeks every August, some of the nation's best college and amateur players come to compete in front of equally dedicated, knowledgeable and rabid spectators.
"Dedicated" is one way to describe watching 17 games in 56 hours in the blazing Midwestern sun, which is what you're in for if you sign up for "Baseball 'Round The Clock," which starts Friday. Don't worry, when you're not worshipping at the altar of 2 a.m. squeeze plays or responding to the audio cue to check in and prove you are still present, a non-denominational service is provided Sunday morning in case you have a religion other than baseball.
If you need supplies for your marathon weekend -- pillows, deodorant, an excuse to change your mind -- you might be able to find them while bouncing around town like a pinball taking advantage of "buy-outs," in which local merchants sponsor designated game nights and give away free tickets (thank you El Mexico Café!).
Satchel Paige, whose generosity, and a $1,000 paycheck, led him to bring his barnstorming team to Wichita in 1934, giving birth to the NBC World Series, once said, "I never had a job. I always played baseball."
Here's to hoping some of the participants in this year's event will be able to say the same thing someday.