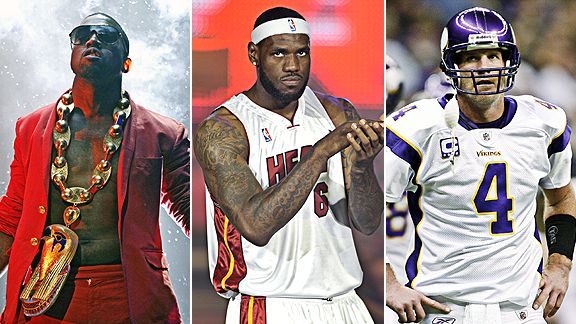 Getty Images, US PresswireKanye West, LeBron James and Brett Favre have been quite popular on social networking.
Kanye West joined Twitter last week.
One day before, on July 27, the rapper-producer visited the offices of Facebook in Palo Alto, Calif. Standing on a table in front of employees, donning a fresh suit, West debuted new material from his forthcoming album -- due out in September. West also stopped by Twitter's offices for a similar show-and-tell.
The eccentric artist only premiered some a cappella raps void of backing musical tracks, but a few in the room recorded his performance and uploaded it to YouTube.
From there, a bevy of music sites and blogs -- always wanting for West content, especially new material in such a setting -- posted the videos. West then took to his new Twitter account to tweet out several of these links, thanking the publications along the way, and creating a nice little self-created circle of publicity.