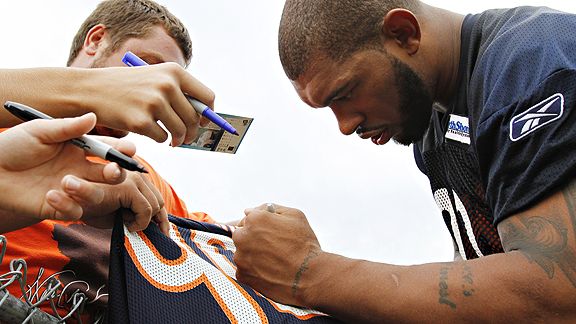 AP Photo/Nam Y. HuhChicago Bears defensive end Julius Peppers makes Page 2's All-Condiment Team.
Grab your EZ Squeeze bottles and fill 'em up with excitement because it's time for Page 2's edition of the All-Condiment Team.
Julius Peppers: This scary Bears lineman is nothing to sneeze at -- Peppers is ninth among active players with 81 career sacks and hopes to be the perfect seasoning to return Chicago to its vaunted defensive past.
Chad Mustard: Mustard probably wouldn't be the best condiment for beef, but they made a perfect combination on the gridiron. Chad was signed out of North Dakota by the Omaha Beef of the Indoor Football League in '03 and went on to play tight end and offensive tackle for three NFL teams.
W.C. Heinz: This legendary sports columnist and war correspondent passed away at 93 in 2008, but not before being inducted into the International Boxing Hall of Fame and writing a novel that inspired "M*A*S*H." Heinz got his start out of college at the New York Sun, making $15 a week.
Tobasco: The pride of American spicy sauces is also the name -- well, spelled close enough -- of a show-horse circuit star. The chesnut gelding Tobasco won the Winter Equestrian Festival circuit championship for the 14-and-under division with 13-year-old Alexandra Thornton in late July.
Martina Hellmann: The former Olympian was as dominant as the world's top seller of mayonnaise that bears her surname; a two-time world champion in the discus, Martina took gold in Seoul in 1988.
Chili Davis: The three-time All-Star selection finished his 18-year MLB career with 350 home runs and 1,372 RBIs. The first Jamaican baseball player in the league, Chili got his nickname from a bad haircut in sixth grade.
O.J. Mayo: As far as condiments go, orange juice-flavored mayonnaise sounds awful. Thankfully, the basketball-playing O.J. Mayo is much more tolerable.