Talk about after the bell.
According to TMZ, retired boxer Mike Landrum is suing Mike Tyson over Iron Mike's use of, well, "Iron Mike."
The 49-year-old Landrum is asking the court to award him $115 million in damages, claiming he trademarked the famous moniker two years before Tyson began cashing in on it in 1985.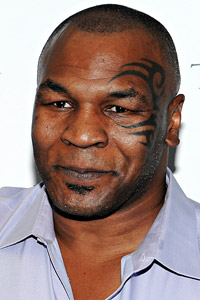 AP Photo/Evan AgostiniIs someone really suing Mike Tyson over the nickname?
The plaintiff told TMZ that Tyson's usurping of the nickname impeded Landrum from getting any title fights or sponsorship deals. Clearly, it was the confusion over who was indeed the real Iron Mike and not, say, Landrum's 6-4 record.
Landrum, in what is almost always a sign of a case's legitimacy, is representing himself.
But here's the thing. Hypothetically speaking, let's say Tyson really did steal the nickname. What's the reason for waiting two-and-a-half decades to file suit?
Was Landrum waiting to see how Tyson's whole boxing career shook out to decide whether suing him was worthwhile?
Was Landrum afraid that if he took on Tyson in his heyday that the former undisputed heavyweight champ would challenge him to take it into the ring?
Is Landrum the only person in America who doesn't know Tyson filed for bankruptcy in 2003 after squandering what is believed to be at least $300 million in career earnings on things like Bengal tigers?
Not all lawsuits brought against athletes are frivolous, but a judge might not have much trouble knocking out this case in the first round.