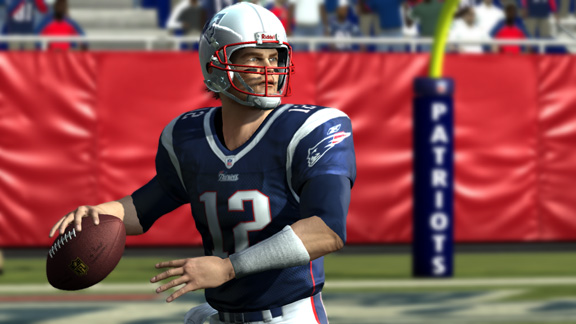 EA SportsIf "Madden 11" is right, look for Brady to win another Super Bowl this season.
Heading to Vegas any time soon? Take notes, as EA Sports has been on a roll of late with sports simulations. Before the Stanley Cup playoffs, "NHL 10" predicted a Blackhawks victory. Before the World Cup, "2010 FIFA World Cup South Africa" simulated a win for Spain. So how does "Madden NFL 11" see the upcoming football season playing out?
EA Sports provided ESPN with an exclusive first look inside its simulation, and if you're a fan of Aaron Rodgers and the Green Bay Packers, get ready for a wild ride.
According to "Madden", Rodgers will win both the offensive player of the year and MVP awards after throwing for a league-high 4,639 yards and 36 touchdowns while leading the Packers to a division-best 12-4 record.
Matt Schaub of the Texans also has a huge season, not only leading the AFC in passing yards and touchdowns, but helping Houston finally make its way into the playoffs with a mark of 9-7.
Other season highlights include Brandon Marshall catching 105 passes in his first season with the Dolphins, Chris Johnson rushing for a league-high 1,784 yards, and the Ravens and Colts tying for most wins at 13.