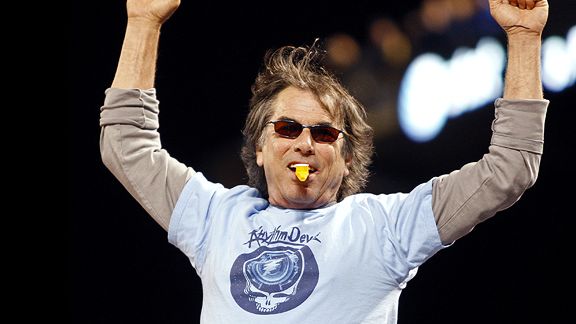 AP Photo/Ben MargotGrateful Dead drummer Mickey Hart performs "Take Me Out to the Ballgame" on a kazoo on Monday.
SAN FRANCISCO -- Ed Reines' long, strange trip started right after he graduated from Columbia Law School in New York in 1988. It continued Monday night when he was among 7,000 people playing kazoos at a Giants game.
"I moved to San Francisco to follow the Grateful Dead," he said proudly.
Reines, now a Silicon Valley-based intellectual property rights attorney and longtime Giants season-ticket holder, was among the horde of Deadheads who flocked to AT&T Park to honor the 15th anniversary of Grateful Dead frontman Jerry Garcia's death.
During the seventh-inning stretch, band member Mickey Hart led a Guinness World Records ensemble of more than 7,000 playing "Take Me Out to the Ballgame" on kazoos.
NBA Hall of Famer and longtime Deadhead Bill Walton delivered a speech during a pregame ceremony at home plate. Jerry's daughter Annabelle threw out the ceremonial first pitch.
Later, they all joined in on the kazoos.
The tribute benefited the nonprofit Rex Foundation, which promotes the arts and environmental causes.
Walton, a Deadhead since he heard the band playing on a local radio station in San Diego when he was 15, has been to, by his count, more than 750 shows.
"Not enough," he said.
The Giants-Dead marriage goes back decades. In 1993, Garcia sang the national anthem at a Giants game.
"Baseball's a fun game, and we need more fun in the world," Hart said. "It's important to have sports and it's important to have music. They do a lot for the human condition, and it's important that that not be forgotten."