SAN DIEGO -- Wade Stanley is like most 11-year-olds. He sleeps in during summer vacation. And he loves to play video games.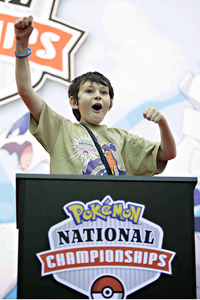 Courtesy of The Pokémon Company International.Wade Stanley will represent the United States in the World Pokémon Championships.
But unlike most kids, it is because of his passion for video games that he and his family will get to take a trip to Hawaii.
Wade won the national Pokémon Video Game Series in Indianapolis in July, and the grand prize is a trip this week to Hawaii to compete in the worldwide championship.
Should Wade win that, well, his family will get yet another trip -- this one to Pokémon Park in Tokyo, where this anime craze began.
"We go to Hawaii almost every year, but we weren't going to go this year because they made it too expensive to fly," Stanley said. "But now we are!"
The Pokémon World Championships 2010 will be held Friday through Sunday in Kona. The competition is divided into Junior, Senior and Masters divisions. Stanley will compete in the Junior division, which is for players born in 1999 or later. Champions from around the world and top-ranked players were invited to compete in the single-elimination event.