You would think after nearly breaking a world record for consecutive third-person references and uttering the iconic phrase, "I'm taking my talents to South Beach," in LeDecision, that LeBron James would choose his words more carefully.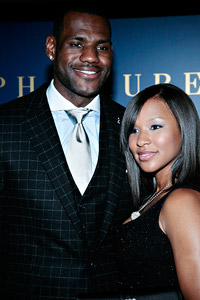 AP Photo/Andy KropaSavannah Brinson prefers to stay in Cleveland with the children instead of Miami.
Instead, the self-proclaimed king just keeps on providing fresh material.
James is profiled in the upcoming issue of Harper's Bazaar -- which hits newsstands on Aug. 17 -- and makes some major missteps when characterizing his relationship with longtime girlfriend and high school sweetheart, Savannah Brinson, the mother of James' two sons, LeBron Jr., 5, and Bryce, 3.
James tells the magazine that with or without a wedding ring, he believes Brinson will always support him.
Yeah, and Cleveland fans will welcome him warmly when the Miami Heat play there.
"A person like myself always needs a great sidekick and a person you can rely on no matter the circumstances. And she's that," James told Harper's. "She's got my back, and I love her for that."
Sidekick? Ouch. So does that mean his kids are his assistants?
I'm not saying the 25-year-old James was obligated to profess his eternal love for Brinson, but he certainly gave every indication that he's in no rush to crown a queen.
That means the over-under on James' relationship lasting in Miami, known for its bevy of beautiful, exotic women, just swung dramatically in the groupies favor -- especially with Brinson, 24, admitting she wasn't feeling Miami as a destination.
"Personally, Miami was not my favorite place," she told the magazine. "Vacationing there is great. You go for three days and get some sun and it's time to go home."
So will the Miami relationship curse claim another couple? It got Shaq and Dwyane Wade. Brinson and James, better watch out.