Brandon Marshall says that if there's a lockout of the 2011 NFL season, he's going to play in the NBA.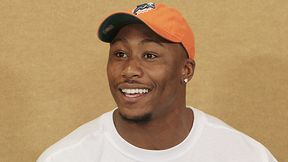 AP Photo/J Pat Carter
Marshall has the right idea. A lockout seems more likely every day, and players have got to do something to kill the time (and those averse to saving their money must pay bills). But forget the NBA. There's only one place a temporarily unemployed football player should look for opportunities next fall.
College.
Think about it …
There's a place to work out. It's a lockout, not a vacation.
Girls, girls, girls. Dating a man with no job isn't a letdown for a coed. And with the nice cars players drive, they can't lose. Plus …
Things haven't changed. "I'm a football player" still works.
Close proximity to your agent. He'll be in the parking lot.
A chance to do all the things you missed out on. Like booing your old coaches from the stands, or buying your own jerseys at the bookstore.
Finish up that degree! But, just like before, this is totally optional.