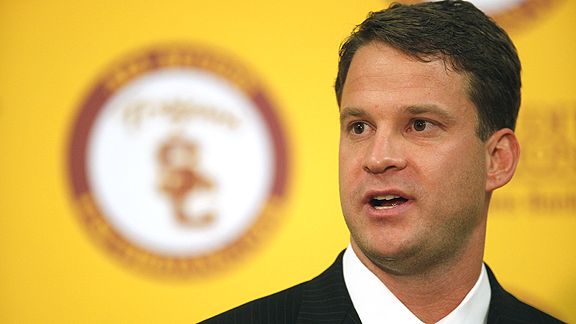 AP Photo/Damian DovarganesPage 2 readers picked new USC coach Lane Kiffin as one of the competitors in a steel-cage match.
We were inspired to ask for your help in creating a list of "Top 10 Mixed Sports Steel-Cage Matches" because of the "he said-I did not say-Liar-Liar-Pants on Fire!" confrontation between small TV reporter Jim Gray and smaller Ryder Cup captain Corey Pavin over selecting Tiger Woods to the American Ryder team.
Your answers poured in, including a two-on-one handicap match with Pete Rose and Pavin teaming up to take on Gray, suggested by Matt McT. from Scotch Plains, N.J.
Some matches seemed so obvious to so many of you that we are setting them aside:
• Mr. Woods vs. Elin Nordegren Woods (with a 9-iron often mentioned as the club of choice).
• LeBron James vs. Cleveland Cavs owner Dan Gilbert. -- Ben M. from Peoria, Ill., spoke for many of you when he declared it an "I quit" match because, according to Gilbert, that's all James knows how to do.
• Manny Pacquiao vs. Floyd Mayweather. We had to disqualify this because it would be an actual boxing match but many of you said this fantasy format is the only way we'll ever see Mayweather agree to the fight.
With those out the way, let's get to the list:
Top 10 Mixed Sports Steel-Cage Matches
10. Player Albert Haynesworth vs. Coach Mike Shanahan -- Fred G., San Francisco, who wonders whether Albert would ever be able to "run down" Shanahan.
9. Sammy Sosa vs. Mark McGwire -- Steve M., Carbondale, Ill., who suggests Jose Canseco would be the dirty guest ref.