TACOMA, Wash. -- Cheney Stadium is roughly 36 miles from Safeco Field. That's about the shortest distance there is between a big league club and its Triple-A affiliate but it seems a lot further when you're in the minors waiting for a callup. Or if you're driving at rush hour, which lasts longer than a Red Sox/Yankees doubleheader.
"I leave at 12:30 or 1 o'clock and sometimes I don't get here until 2:30," first baseman Justin Smoak says of his commute from a northeast Seattle suburb. "I'm from South Carolina so I'm not used to traffic, man. Now it's nothing but traffic. I'm not used to seeing too many three-, four-lane interstates and now I'm sitting in five- and six-lane interstates. It's unbelievable."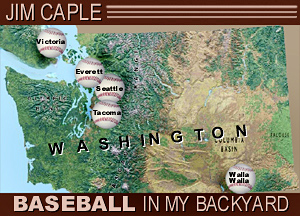 I was stuck in that traffic as well on my way to Cheney for the latest stop on my Baseball in the Backyard Tour. Of course, a lot of the daily backups inching from Seattle to Tacoma could be due to Smoak and his teammates. This year the Rainiers have made more than 130 transactions, or roughly one for every day of the season. That's the way it is in Triple-A, which is a transit center for careers heading north to the majors, careers heading south to the minors and careers stuck in between like the Tom Hanks character in "The Terminal."
As the quote of the day reads on the Rainiers clubhouse when I stop in during my tour: "If you don't know where you're going, you'll end up someplace else." -- Yogi Berra.
So Smoak can be excused if his internal compass is a little off right now. The Rainiers are his fourth team in his second organization this year. The 2008 first-rounder began the year in Triple-A Oklahoma before being called up to Texas. The Rangers traded him to the Mariners as the key player in the Cliff Lee deal. He was in Seattle just long enough to hit .159 with 23 strikeouts and one walk and get a place in Kirkland before the Mariners sent him to Tacoma. His average is still low (.235) but he has four homers in 18 games and his walks are back up. Plus, with all the moving around he's done -- the minor leagues to first place in the majors to last place in the majors to the minors again -- he's just fortunate to not have lost his luggage.
Follow Jim Caple's "Baseball in My Backyard" series this week as he documents the baseball dream in collegiate summer ball, the independent leagues, short-season Single-A, Triple-A and the major leagues.