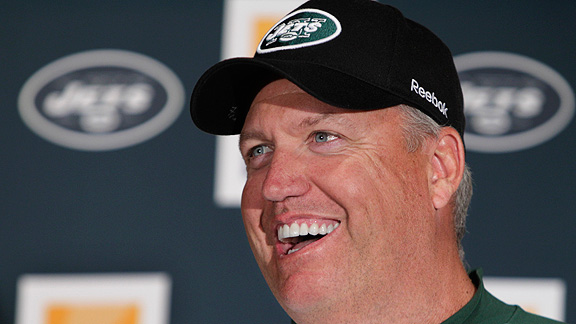 AP Photo/Kathy WillensRex Ryan might have a foul mouth but there are many positives about him.
Every week through the Super Bowl, David Fleming will check in with 12 things about the NFL. This week, he shares his responses to all the ill will generated toward outspoken Jets coach Rex Ryan.
How can you hate a guy who loves M&M's Pretzels so much?
Have you tried them?
I'll take a loud mouth over a phony any day.
One big reason longtime coordinators who become head coaches tend to fail at such a high rate in the NFL is that when they finally get promoted they change who they are to fit some silly antiquated ideal of what they think a head coach should be. (See also: Eric Mangini.) And there is nothing players tune out quicker in the NFL than a guy they perceive as a phony. I spent a lot of time with Rex when he was the defensive coordinator in Baltimore and most of the time I went into his office two things happened: I learned something new about football and I laughed so hard my gum would fall out of my mouth. He hasn't changed a bit. That's a lot harder to do than most people think.
He's more than paid his dues.
Eastern Kentucky? New Mexico Highlands? (I thought that was a casino at first.) Morehead State? Cincinnati? Rex had done an amazing job as the D-line coach with the Ravens for several seasons, yet when former defensive coordinator Marvin Lewis left to take the Bengals' head coaching job Ryan was passed over for Mike Nolan, the Ravens' receivers coach. After that Rex lost weight, cut his hair and whitened his teeth and still got passed over for the head job in Baltimore, Miami and Atlanta before landing in New York.
• Click here to read this Insider article by David Fleming in its entirety