NEW YORK -- It's a few minutes past 4 p.m. on an August Friday and the excitement is palpable at the Variety Boys and Girls Club in Astoria Queens.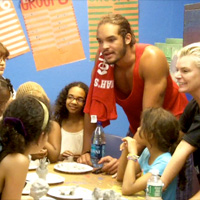 Nick Friedell / ESPNChicago.comBulls center Joakim Noah and his mother speak with kids at the Variety Boys & Girls Club of Queens in New York.
Several preteens stand in the lobby while a few parents and a photographer look on, waiting for the arrival of the day's special guest. Volunteers scurry back and forth trying to tie up some loose ends as other neighborhood children shuffle in and out of classrooms, some trying to figure out exactly what is going on. Small banners dot the walls announcing the special events that have already started taking place in the building. The old facility on 30th Street has a different kind of energy to it on this day.
It's not every day that an NBA player, who spent many of his formative years working on his game around the area, comes back to visit. It's also not every day that you see a 7-foot, 260-pound man with a curly ponytail walk around in a red tank top and blue checkered shorts. But then again, you never know exactly what to expect when you see -- and hear -- Chicago Bulls center Joakim Noah.
That's why everyone has gathered here today, and that's why they're so excited when the happy-go-lucky big man walks up the steps and strides through the double doors. Seemingly everybody gets a handshake or a hug. He would stand and talk to everybody for a while if he could, but the events are underway and he's got to attempt to stay on schedule. It's his foundation's inaugural Stickman Day, after all, and everybody wants a moment of his time. So he heads down the stairs and down the hall with the same confident swagger he displays on the basketball floor.