Welcome back to Three Up/Three Down, where we look at which athletes, trends and gear are running hot or running cold in the sports memorabilia world.
Matt Lane, vice president of Sports Images Inc., provides the official 411 on this ever-changing industry.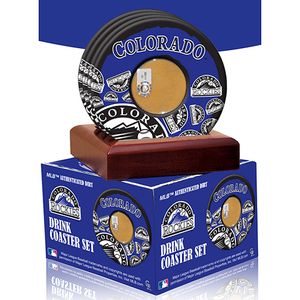 Sports Images Inc.You don't have to spend the cost of a PSL to take a piece of the game home with you.
THREE UP
Game-used coasters: Although most people can't afford a seat from the old Yankee Stadium, they can afford coasters. How are these "game used"? Each one has actual dirt from an MLB stadium and comes authenticated by our friends at Major League Baseball.
Shaquille O'Neal: The Big Shamrock's signing with Boston has rekindled interest in the surefire Hall of Famer. Shaq's rare ability to self-promote has fans once again snapping up bobbin' heads, leather wristbands and keychains as well as autographs.
Joey Votto: Now that the young Reds star is one of the favorites for NL MVP, fans are seeking out his rookie cards, caps and those name&number T-shirts. This buzz also will lead to a spike in demand of autographed items -- so get one while you can. The prices are very likely to go up.
THREE DOWN
Holdouts: Darrelle Revis' holdout isn't just killing sales for him right now. If history is any indicator, the bad blood with fans and collectors definitely will linger. Last year, Manny Ramirez's contract squabble with the Dodgers dried up his once robust sales, and they have yet to recover -- especially in the L.A. market.
Alex Rodriguez: A-Rod hits the once-revered mark of 600 home runs, and it is virtually ignored. All players associated with the steroids era seem to be scarred for life. Although A-Rod's collectibles and autographs are probably a good investment long term, right now they simply aren't moving.
Cliff Lee: The not-so-hot sale of Cliff Lee items did not change much when he went from the Mariners to the Rangers. What has put him in the basement are rumors that he's just a rental for Texas and has no intention of re-signing. What will spark Lee's sales? Signing a long-term deal with a big-market team such as the Yankees this winter definitely will get him out of the cellar.