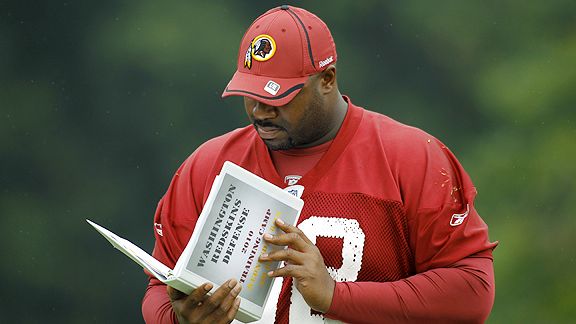 AP Photo/Alex BrandonPage 2 wishes Albert Haynesworth would just be quiet and play football.
As the arraignment for Roger Clemens begins Monday, the respective parties will appear in court under a gag order. Although gag orders serve purposes far superior than just keeping annoying people quiet, it's still a very coveted power to possess.
We, at Page 2, would like to issue these gag orders:
Rob Dibble. "There must be a sale tomorrow going on," said Dibble as he pointed to two women talking in the stands at a Nationals game. "Their husbands are going, 'Man, don't bring your wife next time.'" Then, about Stephen Strasburg, he said, "You can't have the cavalry come in and save your butt every time you feel a little stiff shoulder, sore elbow."
Reason for gag order. Because it wasn't enough to insult every female baseball fan in America, he felt it would be a good idea to go ahead and offend the symbol of hope for the future of Major League Baseball, as well.
---
Albert Haynesworth. When he said, "You'll have to ask them, but I guess they'll tell you 'headaches' again." And he adds more, "I don't know. Make me look bad for not going to their offseason conditioning program. But, I mean, next year I'm not coming either."
Reason for gag order. It sucks to be stuck at work when you don't want to be, or when you're just not feeling quite right. Welcome to real life, Albert.
---
Julia Roberts on her "Eat Pray Love" movie. When she said, "I can certainly relate to what she has gone through and there are things in the movie which everybody can relate to: trying to clarify your life and understand your own compass for where you want to go and who you want to be."
Reason for gag order. Julia Roberts telling the press all women can relate to her journey of self-discovery in which she inhales pasta while gallivanting around the world to produce a movie full of "emotional evolutions" that all women can understand is a bit pretentious.
---
The emotions of Tiger Woods. When people say, "Of course, this can be a fresh start for Woods, but not quite yet. He caused a lot of pain, but he must be in great pain, too."
Reason for gag order. Enough with worrying about Tiger's finding a new mental comfort zone. He will prove it on the golf course -- without any guy drama about emotions attached.
---
Heidi Montag and Spencer Pratt When he said, "I've been making films since I was in the seventh grade. I'm looking forward to people seeing my directorial debut." And she said, "@LaurenConrad you were right! Spencer is soooooooooooooooo sucky!!!"
Reason for gag order. The fame insatiable drama that is Heidi and Spencer will not keep disagreements about home movies to themselves. If the home movies Heidi made aren't for everyone to see, stop talking about them and stop using so many o's in your tweets.