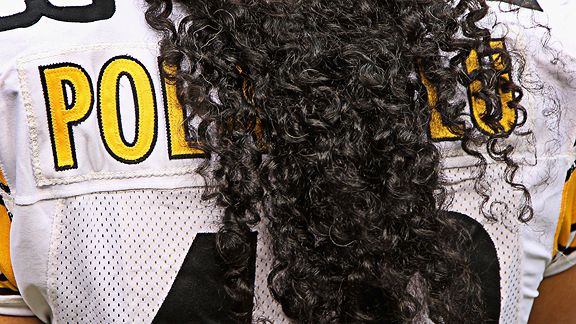 Doug Pensinger/Getty ImagesTroy Polamalu's trademark hair is now worth a cool $1 million.
Athletes have been losing their hair at an alarming rate over the last couple days. First, nearly the entire St. Louis Cardinals team shaved their heads on Monday. Then came word from the White Sox that Manny Ramirez may have to cut his dreads to fit in on the south side. White Sox general manager Ken Williams said Monday, "From my understanding, it's not going to be an issue, and he's going to make an adjustment and conform to how we like to have our players represented out there."
So we at Page 2 couldn't be more relieved to learn that Troy Polamalu's nearly three feet of hair is insured by Head and Shoulders for $1 million through Lloyd's of London. That fired up a little nostalgia about the great hairstyles in sports that we'd insure so they could live forever.
Randy Johnson
The Big Unit's mullet was as filthy as his pitching. Johnson's aura was never the same after he clipped those greasy locks in the late '90s. His mullet was pure intimidation and it's a shame that it will only live on in photographs.
Alexi Lalas
There's nothing wrong with the current look of the ESPN soccer analyst, but back in his playing days Lalas' hair looked like Sideshow Bob mated with Carrot Top. That bright red waterfall coming out of the back of his head was the best thing about the 1994 World Cup. We just wish Carlos Valderrama had rocked the matching goatee like Lalas.
Dennis Rodman
The former NBA star keeps it relatively plain these days. Nothing like when he was ripping rings with Michael Jordan in Chicago. Rodman switched from lime green to blonde with black swirls to rainbows to bright red with the Bulls logo in the back. We wish we could've insured any one of those in the hopes of preserving it for posterity, but the good news is it probably wouldn't take much convincing to get him to recreate that follicular magic.
Oscar Gamble
When it comes to afros, the 17-year MLB vet was the best in the business. Much like Polamalu, it was nearly impossible for Gamble to keep a hat or batting helmet on. Unfortunately his hair quickly became a target of George Steinbrenner and Gamble was forced to cut it when he joined the Yankees.
Tim Tebow
No, not the buzz you Gator/Bronco fans have come to love. We're talking about the monk-cut he received recently while being hazed welcomed in Denver. That could've become legendary, if only someone had saved Tebow from himself and made him keep it.
There are so many great hairstyles that have gotten lost over the years in sports. Let us know which one you miss the most in the comments section.