You don't expect to hear a football coach admit to being totally surprised by an opponent's offensive strategy.
Lane Kiffin said USC was caught off guard by Hawaii implementing elements of the "pistol" formation in Thursday night's 49-36 USC victory in Honolulu. The Trojans apparently had no idea Hawaii would line up in the formation until Kiffin's dad, Monte, USC's defensive guru, saw a news clip with footage of a Hawaii practice on Wednesday night. The insight didn't do much good. Hawaii gouged the USC defense, racking up 588 total yards, 459 of them through the air.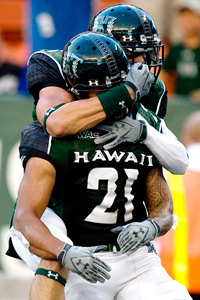 AP Photo/Eugene TannerHawaii's Greg Salas and Kealoha Pilares (21) celebrate a second-quarter touchdown against USC.
There's another group intently watching these opening games in the college football season that could empathize with Kiffin.
One of the designers of EA Sports' "NCAA 11" video game, Ben Haumiller, said the game's development team, which made a big push this year to represent individual teams' offenses, was shocked by the Warriors' new wrinkles.
"This was a perfect-storm situation for Hawaii. Everyone's gearing up for the run 'n' shoot. That's what they're expected to run," Haumiller said. "They were totally blindsided by it. We were the same way, too. We didn't expect to see this at all."
Haumiller said the game doesn't have any variations of the "pistol" in Hawaii's offense, using strictly a run 'n' shoot playbook, which isn't surprising considering the system's architect, Mouse Davis, returned this year as Warriors offensive coordinator.
It's a challenge coaches face in Week 1, when there's very little game tape. "NCAA 11" developers, likewise, have to sort through the smoke screens coaches often float.
For instance, Haumiller says Texas has been talking all offseason about running more I-formation running plays instead of its usual spread offense. No one knows for sure if that will happen until the Longhorns play.
Haumiller did concede it was surprising that Hawaii was able to keep the "pistol" under wraps in today's media landscape.
"You would think it would leak out in some form or another," Haumiller said. "Nobody knew it was coming except for Hawaii, and that's exactly how they wanted it."