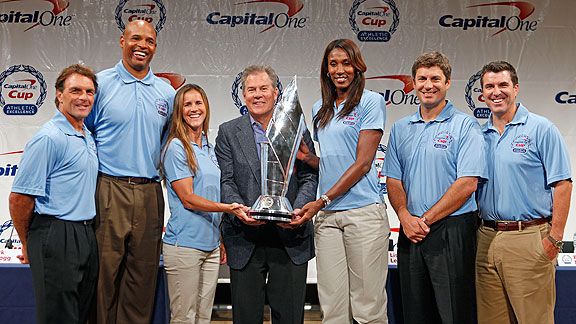 David Goldman/AP ImagesCapital One's Bill McDonald is joined by athletes from left, Doug Flutie, Clark Kellogg, Brandi Chastain, Lisa Leslie, Robin Ventura and broadcaster Rece Davis, to unveil the Cup.
Doug Flutie just might be busier these days than he ever was playing football.
The former NFL and CFL quarterback heads up the Doug Flutie Jr. Foundation for Autism, plays in two baseball leagues, plays drums in a band with his brothers and still manages to toss the pigskin around on the occasional Sunday.
Flutie has also just been named to the advisory board of the Capital One Cup; a new program where NCAA Division I athletics programs will be graded for their cumulative on-field performance. The top two schools will each receive $200,000 for graduate-level scholarships for student-athletes and will be announced at the ESPY Awards.
Page 2 got to talk with Flutie about the new program and what's been keeping him busy since he retired from football.
What do you think about being a part of the Capital One Cup?
"It's pretty exciting. I'm fired up to be a part of it. The Capital One Cup will be awarded by a point system that shows excellence in all sports- football, basketball, baseball all the way to field hockey, tennis, volleyball, you name it. It'll become bragging rights on campus."
How often do you get a chance to throw the football around these days?
"Once and a while during the spring. My nephew and his buddies every Sunday morning throughout the entire year -- they go out for about two hours and play touch football. Every now and then, for the fun of it, I'll go down and quarterback. I'm all-time QB."