TMZ posted audio from today's "Dan Patrick Show" on DirecTV where guest Joe Montana dismissed some of the lore of the movie "Rudy."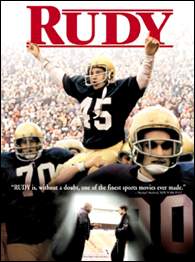 TriStar Pictures
Montana, who played on the same Notre Dame team, said "It's a movie remember ... not all that's true ... The crowd wasn't chanting ... nobody threw in their jerseys."
Nice, Joe. Take your four Super Bowl rings and pummel Rudy's spirit. Wanna talk about Santa Claus or the Tooth Fairy with some kids? Here are some other suggestions for things Montana could reveal to crush our precious heartfelt memories:
• The vast majority of people who came out to California in the gold rush of 1849 never struck it rich.
• Touchdown Jesus is actually a Purdue fan.
• Steve Young is a worse lawyer than Star Jones.
• Bill Walsh's IQ is a smidge below 140.
• He was actually just trying to throw the ball away in 1982 before Dwight Clark jumped real high.