What, Ricky Martin wasn't available?
Unlike the other Grand Slams, the U.S. Open isn't simply about tennis. It's Alec Baldwin in the stands, Donald Trump in Caroline Wozniacki's box -- ¿como? -- and Billy Joel belting out whatever it is Billy Joel remains capable of belting out on opening night. It's about entertainment -- pure New York City schmaltz. As such, it's not surprising that Thursday night's quarterfinal match between Rafael Nadal and Fernando Verdasco will take place following a prime-time exhibition doubles contest with Mats Wilander and Pat Cash against Martina Hingis and Anna Kournikova.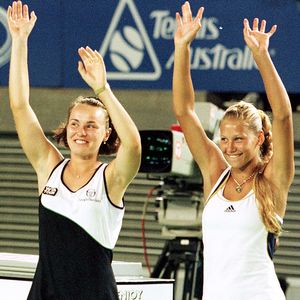 AP Photo/Sean GarnsworthyPage 2 happily turns back the clock with this 1999 photo of Martina Hingis and Anna Kournikova.
No, what's surprising is the timing.
First, forget Wilander and Cash. They're senior tour regulars, contemporaries of Max Headroom. Definitely not the draw. The draw is Hingis and Kournikova, a dream pairing that was downright electric ... a decade ago. Back during the Clinton administration, Hingis was the top player in the sport; Kournikova, the most downloaded woman in the world. Together, they actually won the Australian Open doubles title twice (1999, 2002), and their epic locker room catfight following a 2000 exhibition match -- snide comments, broken flower vases, thrown trophies -- was the stuff tabloid dreams are made of.
Of course, that was then.
These days, Hingis plays World Team Tennis. So does Kournikova, who is better known as Enrique Iglesias' significant other. And that's about it. Serena Williams, not Hingis, is the sport's alpha female. Ana Ivanovic has seized Kournikova's beautiful-but-damned-on-the-court mantle. Rolling out Hingis and Kournikova -- and putting them in a faux battle of the sexes against a pair of well-liked codgers -- would be the equivalent of preceding tonight's Vikings-Saints NFL contest with a flag football game between the 1985 Chicago Bears and the 1999 St. Louis Rams. A curiosity? Sure. But as actual entertainment? Too little, waaaaay too late.
Look, we all miss the late 1990s. The economy was booming. SUVs just kept getting bigger. The Y2K bug was our biggest collective fear, the band Train hadn't happened and Osama Bin Laden was mostly known as an accomplice of Evil Bert. I'd like to go back. Who wouldn't? Only we can't. We have smart phones and two wars, Lady Gaga and a recession. Time moves on. In bringing back Hingis and Kournikova, the Open isn't just reminding us of what was; it's reminding us of what has been lost.
Like I said, I would have preferred Ricky Martin. At least he's worth a good laugh.