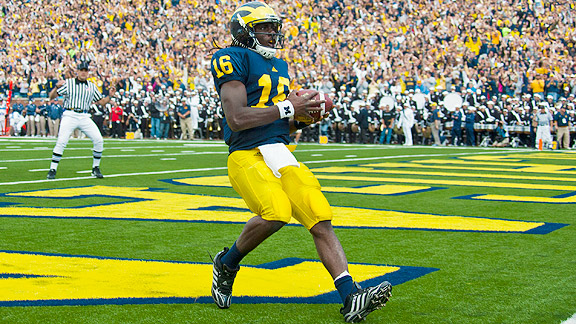 AP Photo/Tony DingMichigan quarterback Denard Robinson scores a touchdown against Connecticut.
ANN ARBOR, Mich. -- Denard Robinson has made one start as Michigan's quarterback and slowing the sophomore is already a bit of an unsolved mystery.
After torching Connecticut for 197 rushing yards in a 30-10 win, Robinson acknowledged the Huskies resorted to a grassroots effort to knock him off his jaw-dropping pace.
"They were like, 'Take his shoe, take his shoe,' " Robinson said. "I guess they were trying to slow me down."
Robinson's Flash Gordon-esque skills aside, much of the hype has more to do with his fancy-free footwear fashion sense and less with his dual-threat playmaking abilities.
Robinson is better known as "Shoelace", a nickname he earned as a 7-year-old Pee Wee football standout, referring to his refusal to lace up his shoes, a habit that continues.
This week, Robinson, who accounted for 383 yards against UConn, spent more time discussing his shoe-tying habits on a conference call than he did about preparing for Saturday's game with Notre Dame.
A Twitter account, bearing Robinson's name and a user name @Shoelace_16 also surfaced, attracting more than 1,000 followers before a Michigan spokesman confirmed the account was fake.
But fear not zealous footwear police: Rather than allowing his laces to flap willy-nilly in the wind, Robinson admitted a strip of Velcro affixed to each of his cleats keep his laces under wraps.
But a thin strip of adhesive may not be enough security for Michigan coach Rich Rodriguez, who worries that Connecticut's footwear fascination may catch on as opposing defenses attempt to keep his newly-minted star from running free.
"If it becomes an issue that [defenders] keep yanking at them, I told him we're going to have to get him to tie those shoes up," Rodriguez said. "He just laughed and said, 'I could always put the Velcro on a little tighter.' "