Don't call him Archibald.
Former Ohio State and Cincinnati Bengals running back Archie Griffin was named after his grandfather and his first name isn't short for anything. He knows there are very few who share his given name and doesn't know whether it's going to make a comeback.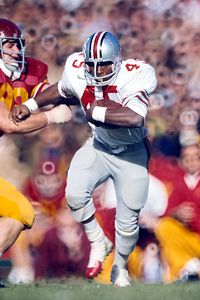 George Long/WireImageArchie Griffin, who won the Heisman in 1974 and 1975, still strikes the pose frequently, he says.
"There aren't many Archies. Archie Manning. Archie Bunker," Griffin said. "I haven't heard of a lot of them other than people naming their pets."
Griffin is the only player to win the Heisman Trophy twice. He accomplished the feat with the Buckeyes in '74 and '75 and is surprised no one has replicated or surpassed it over the past 35 years.
"I thought by now someone would've won it twice and maybe even won it a third time," Griffin said.
Unlike former Miami Dolphin Mercury Morris, who celebrates every season when the NFL's last undefeated team loses, Griffin can't wait to congratulate the first person to join his exclusive club.
He's passionate about success for young athletes and is the spokesman for the Wendy's High School Heisman Award, which is accepting nominations through Oct. 3.
Griffin says contrary to popular belief, he doesn't use his two Heismans as bookends. One is in his home and the other is on display at Ohio State. And the 56-year-old has struck the famous pose a lot more recently than you probably think.
"It would've been [Wednesday]," said Griffin, who is president of Ohio State's Alumni Association. "I was taking a picture with some people and they asked me to strike the pose. That happens very often."