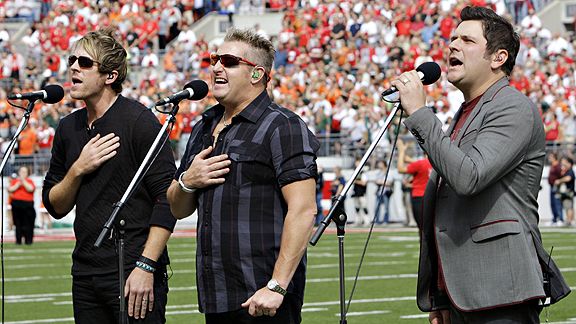 AP Photo/Jay LaPreteJoe Don Rooney, Gary LeVox and Jay DeMarcus of Rascal Flatts perform the national anthem before Saturday's game.
The Ohio State Buckeyes' win over the Miami Hurricanes was one of the most anticipated matchups of college football Week 2, which made sense that one of the biggest bands to come out of Columbus, Ohio -- Rascal Flatts -- was there to celebrate.
"There is nothing like Ohio State Buckeye football," said lead singer Gary LeVox, who tailgated and sang the National Anthem along with band mates Jay DeMarcus and Joe Don Rooney before the game. "Especially for Jay and I being back home, we grew up right here and we bleed scarlet and gray."
Rascal Flatts didn't come to the pre-game celebration empty handed. The band teamed up with Hershey's to hand out S'mores to tailgaters, with the hopes of bringing the staple dessert of late night bonfires to beer-guzzling tailgates.
"We're doing the build it, wrap it and grill it with S'mores," LeVox explained of his S'mores making strategy.
The band is a regular on the Ohio State campus, even attending two a day practices this year with the approval of their close friend, Jim Tressel. "We've drawn up a few plays [for him]," LeVox joked before the game. "Coach Tressel is one of the finest men on the planet. He's not only a great coach but his heart and who he is as a person is actually maybe more magnificent than his coaching abilities."