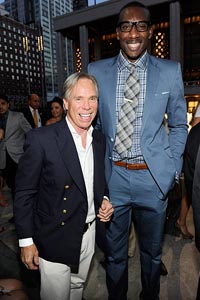 Kevin Mazur/Getty ImagesTommy Hilfiger and Amare Stoudemire attend Fashion's Night Out. Wow, check out Amare!
For Amare Stoudemire, a lot has changed since coming to New York City.
First, he signed a max contract to be the face of a struggling NBA franchise.
Then, he announced he was exploring his Jewish roots.
And right in time for Fashion Week, he became the latest athlete welcomed under Vogue editor Anna Wintour's wings. Wintour asked Stoudemire to join her and designer Tommy Hilfiger at the opening at Fashion Night Out.
Stoudemire said fashion isn't new to him. He just hasn't explored it much in other cities he's lived.
"There's so much more of a chance to be involved here," he said. "I don't really have a style. It's just kind of whatever I think looks good. I have a lot of different looks."
Henrik Lundqvist, the New York Rangers goalie who actually appeared in this month's Vogue, said he thought Stoudemire could be the fashion world's next favorite athlete.
"Just looking at him you can see he's into fashion," he said. "I like his [style]. It's a little crazy but it's fun crazy."