Tom Brady has been compared to her. Yankees general manager Brian Cashman says she is welcome at Yankee Stadium, just not (back) in the clubhouse. David Stern included her in an elite trifecta (along with Bill Gates and Barack Obama) of which LeBron James could possibly join the ranks. She has more Twitter followers than anyone on the planet, three million more than Shaquille O'Neal.
Yes, Lady Gaga is officially everywhere. In honor of her record eight MTV Video Music Awards on Sunday night, we bring you the unofficial Lady Gaga professional sports dance-off.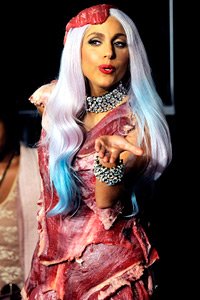 AP Photo/Chris PizzelloLady Gaga thanks all her fans. Even Brandon Jennings. Also, she's wearing a dress fashioned from meat. So there's that.
Second runner-up: Finnish soccer club Hangö
In a display that would elicit some serious headshaking from the NFL's competition committee, players sprint to the sideline following a goal, don shades and a blonde wig and dance.
The team gets props for having props at the ready. However, if the soundtrack had not given it away, it would have been tough to distinguish "Lady Gaga" from any other pop star. The third-division club clearly still has a way to go before rivaling its first-division Nordic neighbors when it comes to post-goal celebrations.
Runner-up: Philly Phanatic
First of all, this raises the question of where does one purchase a replica Lady Gaga dress for someone 6-foot-5 with a 90-inch waist?
What stands between the spelling-challenged mascot and first place is the singer would have been able to convince Nationals third base coach Pat Listach to dance with her.
Winner: Bucks guard Brandon Jennings
Word on the Web is that Jennings lost a bet. But it's yet to be determined if that's true or simply the only logical explanation the general public could come up with.
Jennings gets the win for nailing the top two Gaga qualities: 1. Performing half-dressed. 2. Displaying a completely nonchalant attitude while looking absolutely ridiculous.