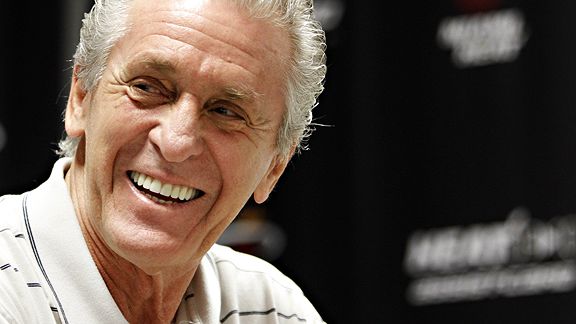 AP Photo/Alan Diaz
Pat Riley joined 790 the Ticket in Miami with the Dan LeBatard Show to discuss the strong reactions to LeBron James and Chris Bosh signing with the Heat.
On Stan Van Gundy calling Chris Bosh a lapdog:
"I was bemused by that because I don't know what happened to Stan. Stan was like me, he hated the media. Now he has a show with you once a week. Guys change over the course of time and I was a little bit surprised that he would make that kind of a comment about a player in his conference. I was bemused by him. I'm surprised by Stan."
On what criticism has bothered him the most:
"There was more heat coming at me [when I came to Miami] for the whole summer and probably almost a year because of how I departed New York, simply by faxing in my resignation. Usually what happens in that situation is that the media, being a very, very, very powerful force in this world today -- more powerful than it's ever been because a great soundbite or a great story gets multiplied by a thousand or two thousand in a minute ... -- it was interesting to me how quick these things moved. ... It was almost silly, with the exception of the people who wrote rock-solid stories that then went out and became even better rock-solid stories. ... I don't understand the animosity because some people decided to move and do what people have the right to do in this country. ... This was a two-year process in which the media built this up to 2010. And guess what? In 2010, they didn't like it. They didn't like the result for some reason. We like it. We're not going to apologize."
On LeBron being criticized as a coward for making the move to Miami:
"Which is a joke. An absolute joke. Anybody that knows him, that's why it's silly. The guy is more of a competitor than probably any player that I've ever been around. ... I'm sure that, the night that he made the decision, if he would've gone back to Cleveland or had gone anywhere else, it would have been fine. There wouldn't have been any of that criticism, probably, or not as much. But the fact that he came down here and coupled up with a couple of other guys, people didn't like that for some reason."
On Cleveland owner Dan Gilbert's reaction to LeBron's decision:
"I don't know what I would've done if I was in his place, either, so I can't really speak to that. Every now and then I think about if Dwyane would have left here. ... We had a hole in our stomach and it wasn't a very good feeling. There were times that he went underground a little bit and we couldn't communicate with him. And so we were always thinking the worst."
On those that say LeBron took a shortcut and won't live up to Michael Jordan-like expectations:
"I won't say it, because do you have a 10-second beep thing there? It's BS. That's what I would say to it. I really do. I think that's a joke. That's just people who want to say something for the sake of saying it. I've been at it five decades and I know what a championship team looks like and you better have three great players if you want to win multiple titles or you want to be a dynasty."
On the coolest moment of the courting of The Big Three:
"I think all of us were having dinner in Chicago at Mike Ditka's one night after a presentation. Talked to Chris Bosh and were also talking to Dwyane and we had a good feeling going into dinner that night and waiting for any kind of information to come back. It went from instantaneous good feeling, joy, to almost like we fell off the end of the earth because we heard a report by ESPN ... that all of the sudden turned the whole thing the other way. It just reminds me how things could have gone either way."
• Click here for a transcript of highlights from the interview