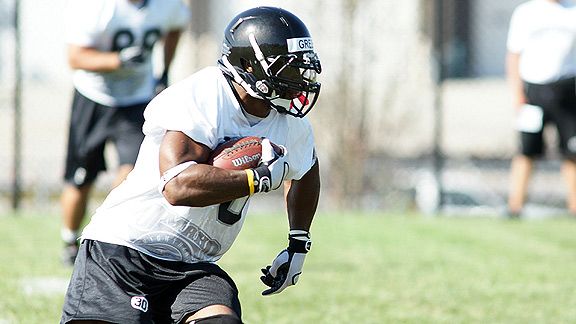 Courtesy of Lionel Tay Former Seahawks, Packers and Texans running back Ahman Green is with the Omaha Nighthawks.
Some things never change for Ahman Green.
He still wants to play football. And the man still sweats a lot.
Long before Green became the Green Bay Packers all-time leading rusher and four-time NFL Pro Bowl selection, he was known for his overactive sweat glands. Green has dealt with hyperhidrosis -- or the overproduction of sweat -- ever since the Seattle Seahawks selected him 76th in the third round in the 1998 NFL draft.
Problem is, word has spread that Green's sweating led to a fumbling problem.
"I just sweat more than the average person," said Green when asked about his hyperhidrosis.
After hanging up his cleats with the Packers in 2009, the 33-year-old Green is part of the upstart United Football League. Playing with the Omaha Nighthawks, he's still trying to wash away some of those lingering stigmas.
After two years in the NFL, Green started hearing murmurs in Seattle about his tendency to fumble. But the reality was, he was simply sweaty.