There were two things that Carmelo Anthony cared about when it came to planning his summer wedding to TV personality La La Vazquez: the food and the music.
La La laughs now when she thinks back on the small forward's wedding demands, and Sunday we get to see what led up to the end result. The planning of their wedding -- and the actual wedding -- will be documented on "LaLa's Full Court Wedding," which premieres at 10:30 p.m. on VH-1.
La La chats with us about the show, her Kim Kardashian-thrown bachelorette party and what she ended up giving in to so Anthony would be happy on wedding day.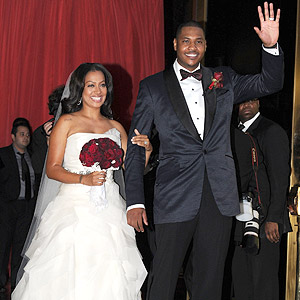 Jason Kempin/Getty ImagesLa La and Carmelo Anthony at their July wedding.
Will we see Carmelo a lot on the show or are you the coach for this wedding extravaganza?
"I mean, definitely it's my reality show, it's called 'Lala's Full Court Wedding' but obviously I'm marrying, and I'm married, to him now, so you do see Melo take part in different parts of the series and different parts of the episodes. But all of Melo's fans, yes, they will absolutely see him enough to satisfy their appetite."
I once asked Melo what things he was most concerned about with this wedding and he said the food and the music. What was it like negotiating those things with someone like Carmelo?
"The music was perfect. DJ Clue DJ'd our wedding, so that was amazing and then the food was great. We had a mixture of seafood and chicken and meat and the vegetarian products. The desserts were crazy. We had a candy bar and red velvet cake. It was heaven for anyone who likes to eat, I'll tell you that much."